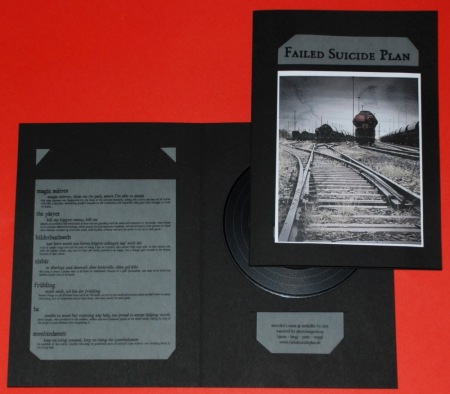 Failed Suicide Plan, a screamo/hardcore band from Germany, gave me their newest release to put it on my blog. Quite brutal, passionate stuff...I like it! You can buy it for 4 € + shipping. Here their band-bio:
Failed Suicide Plan started in Erfurt, Germany, in summer 2005 as a side project by Stefan, Bjarne and Erbse, but it soon became our main musical project. Some moths later we found Peter, former member of PlanK (r.i.p), as singer. In 2006 after only two gigs we had to search for a new man tacking the drumming duties and we finally found Steppl (Kellerasseln, Fazed (r.i.p)). With this lineup we recorded in summer 2007 our first record, a split with the italian screamo band Al Freddo(r.i.p.), that came out in deecmber 2007 on Frohike and tumorati Di Dio records, both from Italy.
In 2009 we recorded new songs that since are available now on a completely DIY CD-R release since november 2009.
FSP is since 2007 playing around, mostly in "east" germay, but we played also in Italy, Slovenia, Romania, Swizerland an Slovakia.
Artist: Failed Suicide Plan
Title: Failed Suicide Plan
Format: CD-R
Label: -
Year: 2009
Genre: HC-Punk touched by Screamo or something like that
Country: Germany
Length: 23:03 min
Bitrate: 320 kbps
Tracklist:
01. Magic mirror
02. Bilderbuchwelt
03. The player
04. Eisbär
05. Frühling
06. Hc
07. Zombiedancer
download